Information about HESI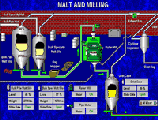 HESI is an acronym for Huyser Engineering Services Inc, a Colorado corporation. Kirk Huyser is a licensed professional engineer in the state of Colorado. He graduated from the University of Denver, Magna cum Laude in 1973 with a B.S. degree in Electrical Engineering.
Mr. Huyser also owns and operates Powergen Corporation, providing startup engineers and technicians for power plant and other industrial plant commissioning.